Salsa - Tango - Bachata & MORE
Wedding Dances
We are ready to make your wedding, party or special celebration unforgettable. We will show you how to perform an special choreography as a couple or as a group.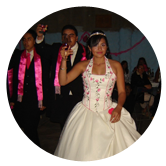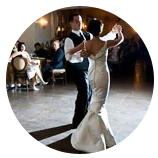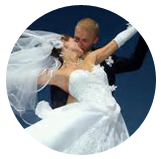 Our Dance Classes in San Miguel
---
We at SABOR y RITMO teach our students how to move like Latinos! Learn to dance Salsa and Cumbia with confidence - so that you can enjoy nightclubs, or wherever Latin music is played.
From the Instructor: Years ago, I used to be one of those man who after a party had to go aside of the group because I did not know how to dance. I got tired of that, and attended a private dance academy thinking that was going to learn how to cance this time. To my surprise that did not happened; I struggled trying to keep up the lessons and communication with my current instructor, in a few words, I was totally disappointed so that I was closed to quit in my new adventure. However, I decided to pursue my goals but this time in a different way. I decided to become my own Instructor. Knowing my strengths and much better my weaknesses, I structured a technique that allowed me to accomplish my target with excellent results. If you think that you are one of those who will never learn how to dance or are looking for alternatives to learn how to dance the Latin rhythms, take a chance and visit us at Sabor y Ritmo, the Salsa, Bachata, Tango, Chachacha, Cumbia Dance Academy in San Miguel de Allende.
BECOME A DANCER
Dreaming of dancing like a Latino or a Latina?
Some schools will teach you the steps, (and steps are nice), but we teach you how to move your body in way that sets the dances on fire!
I teach you based on your needs
Personalized Instruction
Professionalism and Patient
Go to the point
Dancing Styles

Excellent
SALSA EN LINEA
SALSA CUBANA
SON CUBANO
MERENGUE
CUMBIA

Perfect
TANGO ARGENTINO
TANGO NUEVO
CHACHACHA EN LINEA
CHACHACHA ESTILO NEW YORK

A lot of FUN!
BACHATA DOMINICANA
BACHATANGO
MAMBO
BOLERO
MILONGA
Students at Dancing
---
Don't be intimidated by how challenging the dances might seem. We have a lot of experiencet at helping new dancers overcome their fears and develop true confidence.
Testimonials
---
We at SABOR y RITMO, school of Salsa in san Miguel de Allende look forward to helping you unleash that passionate dancer inside of you!
The most fun
Elizabeth: (bethvancamp@gmail.com)
"Taking private salsa classes with Fernando might well be the most fun you are going to have in San Miguel. It was for me. He is a terrific dancer who is also an excellent teacher. He is very encouraging and endlessly patient. He can quickly put you at ease and take away any selfconsciouness. When I started I did not have a lot of experience with salsa or meringue and none with bachata and cumbia . After only a few classes I was able to dance all four with some grace and with a great deal of pleasure. The great thing about studying with Fernando is that even while you working hard to learn a new or complex step it is always fun and you will finally succeed."
will put you at ease
Karen Brody: (www.loveandintimacycoach.com)
"If you feel uncomfortable about the idea of learning Salsa, rest assured that Fernando will put you at ease". He´s patient, caring and encouraging – simply free of judgment – .His gentle presence makes possible to learn with ease, and also to open up and let yourself go. I highly recommend him because he´s kind, one of the best dancers in San Miguel, and he´s transformed my dancing!
great Exercise
Helgita: hteister@gmail.com
Private classes in Cumbia and Salsa with Fernando-- have given me so much more!. More Joy and Fun,---great Exercise and a Slimmer Body. Fernando is a respectful and patient teacher with a sense of humor and love of dancing. He will repeat a turn as many times as you need and it's so much fun when you quickly get it. I have confidence to be on the dance floor. Thank you Fernando!
very attentive
Rachelle Schaff
"My daughters have been taking lessons from Fernando for a little while now and they love dancing with him. He is very attentive to their needs and has them twirling around the dance floor with ease. I would highly recommend Fernando for teaching Latin dances. He is bi-lingual and a joy to work with."
dedicated teacher
"Colorful" Kati
"I took very good private classes with Fernando for a week during my visit to this city. He is very good and dedicated teacher both in his professionalism and his teaching. He was always well organized, with lots of variety of new steps, very patient, very clear and I always felt very safe to dance with him and do the falls. I strongly recommend Fernando to those who want to improve their salsa dancing".
improved my dancing
Stefan Garakanian
To all Salsa and cumbia dancers and interested parties: I would highly recommend private classes with Fernando. I have taken several classes of Cumbia and Salsa and have learned and improved my dancing skills. I did not know how to dance Cumbia, after taking five private classes with Fernando, not only I learned how to dance Cumbia but I now understand the technical aspects of the dance. I have been dancing salsa for six years but I was making many errors and did not feel confident with my dancing skills. After private classes with Fernando, I have improved the technique of my dancing and I am relaxed and confident with my dancing skills. Fernando has a unique and simple way of teaching the dances where one can easily understand the technic and the style of the dance.
excellent teacher.
Clara Dumham: (Theatrical Actress)
"Fernando is an excellent teacher. Thorough, methodical, attentive, patient, kind, and fun! I am very happy with how much I´ve learned in a short time.
A unique system
Nicola Aime (nicola.aime@gmail.com)
I came to Fernando to learn salsa and, in the process, he has also taught me cumbia, rumba, son, merengue, and bachata. He has a unique system of teaching, developed by himself. He teaches the musicality and the rhythms right from the beginning and seamlessly fits in the steps. Right from the start you are dancing, having fun, and learning faster than I have experienced with any other teacher before. Highly recommended.
variety of Latin dance
FDixie (dixie.hathaway@yahoo.com)
Fernando is without a doubt the best dance teacher in town. He can teach every variety of Latin dance and his students gain confidence and proficiency very quickly, as he begins with the easiest steps before advancing to more complicated salsa moves. Fernando can teach even the rhythmically-challenged and those who believe they have "two left feet." His hallmark characteristics are patience and a calm demeanor.
a consummate professional
Agata McDonald
Fernando is a wonderful teacher, a fabulous dancer, and most importantly a consummate professional. He makes learning new dances a fun experience. Fernando makes one feel relaxed and comfortable in his presence, even when one is stepping on his toes. He guides you through the steps and teaches with repetition. He is very patient and his goal is for you to enjoy the classes and to become comfortable and proficient on the dance floor. I have taken lessons for a few weeks and my only complaint is that I didn't start classes sooner.
The fun I am having
Janna Del Prince: jbdelprince@hotmail.com
Dancing with Fernando has given me such confidence and pleasure, as a beginner to Latin dancing. The fun I am having dancing with him privately, and taking his classes, has added so much joy to my life. Fernando is a gifted teacher who is able to convey the dance steps using a simple and relaxed method. Once you take one private, or join a class, you will be hooked. He's great!!
communicating dance
VICKIE SARATORE:
"i've taken dance classes my entire life and find Fernando to be an extraordinary teacher. His style of communicating dance moves students quickly and confidently toward their goal. He's an amazing lead, a patient teacher and great fun. I'm just sorry I didn't start dancing with him earlier."
Dancing Times
---
We also welcome you to drop in on a class by class basis anytime. Either way, we're happy to have you!
AT OUR STUDIO


a great location
MONDAY : 7.00 PM to 8.00 PM
TUESDAY : 6.00 PM to 7.00 PM
WEDNS: 7.00 PM to 8.00 PM
THURSDAY : 6.00 PM to 7.00 PM
FRIDAY : 7.00 PM to 8.00 PM
SATURDAY : CLOSED
SUNDAY : CLOSED
PRIVATE CLASSES


we enhance skills
I teach you based on your needs
Why wait another day? Ask about our PRIVATE LESSONS; personalized attention of your style, rythm and body movement. Read above our reviews.
Choose your schedule
Select your time from 9:00 AM to 5:00 PM from Monday to Saturday.
Choose the location
At your own place (you tell me the place and I will visit you), or you can come to visit me.
CLASES PRIVADAS


Desarrollamos tus habilidades

Our prices are very reasonable, call us for information
Unparallel Prices
We suggest that you take advantage of a monthly membership, so that you can attend as often as possible, save money, and practice with a variety of partners. The more you dance, the faster you will be ready to get out on the dance floors of San Miguel, and show off your style! We also welcome you to drop in on a class by class basis anytime. Either way, we're happy to have you!
PRIVATE EVENTS
What about impressing your guests in aparty or celebration with some dance movements??? Let me guide you step by step with the rhytms that everybody is dancing today, from the beginning, the rehearsal and to the presentation. Do not improvise , be prepared for a dance, as easy as to eat cake.
PRIVATE CLASSES
You are at Sabor y Ritmo, our prices for our private classes have no parallel in San Miguel de Allende. We know that we could easily charge extra and that our students would be more than willing to pay for, but the philosophy of Sabor y Ritmo the academy of Salsa in San Miguel de Allende is to make our prices affordable for those who really want to learn how to dance.
Our Friends
---
Take a look of our friends for other amazing quality services in San Miguel de Allende
ATV Tours, Zip Lines, Horseback Ridding, Balloon Tours, Shutle Services & lots of adventure.
Home for Sale, 15 mn. from downtown. - only $1,300,000.00 pesos (around $74,000 dollars!!!)
- 3 mn from bus stop.
- 10 mn from shopping center.
- A great place to make the remodeling of your liking.
- It has 4 bedrooms and 2 bathrooms already built.
- A great investment
- For more information call cel/whatsapp: 415-117-1102
For sale: Have a piece of land with natural thermal water to build your own relaxation sanctuary.
Located in an environment of beautiful houses, ranches and wonderful sunsets,
- ideal for a sustainable home.
- 20 minutes from downtown and 10 minutes from the Bus Station
- Hot Springs
- Services: Electricity, water
- Flat land.
- Surface: 5930.88 M2.
- Front Measure: 61.06m.
- $400 pesos per m2.
- In the area with high growth potential of La Cieneguita
For sale 3 brand new houses built under a contemporary colonial style. Lots of natural lighting
and a great west view of San Miguel de Allende from their terraces.
- A 13 minute drive or 24 minute walk to downtown.
- 10 minutes to a Shopping Center, Hospital and Bus Station
- 2 stories
- 2 Bedrooms & 2.5 Bathrooms
- Interior Garage
- Surface: 186 m2
- Built área: 173 m2
- 140,000 USD each
House with 7 bedrooms and 4 bathrooms, ideal for "Hostel" or a large family.
- a 15 minutes' drive or 24 minutes' walk to downtown.
- 10 minutes of shopping center, Hospital & Bus Station
- A west view of san Miguel de Allende from its Terrace
- 2 stories, Garage
- Surface: 200 m2
- Built area: 392 m2
- $2,900,000 pesos
We are Here!
---
Why wait another day? Ask about our PRIVATE LESSONS; personalized attention of your style, rythm and body movement.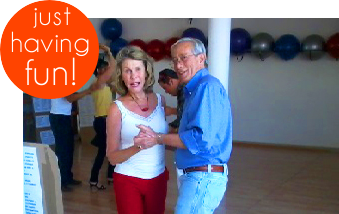 Calzada de la presa 19, int 7, Zona Centro
Our Dance Academy SABOR Y RITMO is found in an excellent location in San Miguel's downtown. From main Garden, you can just walk for about 10 minutes to our studio. A reference point is the Main Market or also the eastern entrance to the Mercado de Artesanias.
CHECK IT OUT